Thursday, 11 November 2021
The MOOV Travel Guitar (moovguitars.com) is a foldable instrument, conceived and built in Greece. Here is an interview with Yorgos Bechlivanoglou who designed the guitar and builds them. It was recorded at the Festival Guitare Issoudun during the guitar show. Yorgos Bechlivanoglou interview The MOOV guitar in separated parts: Until the next interview, keep on
The 2018 edition of Issoudun was the opportunity to gather for the first time the French fingerstyle guitarist Shaï Sebbag and his Canadian friend Maneli Jamal in front of a camera for a Guitar in Hand interview. Maneli and Shaï play together regularly and also record duets, so it made sense to have them talk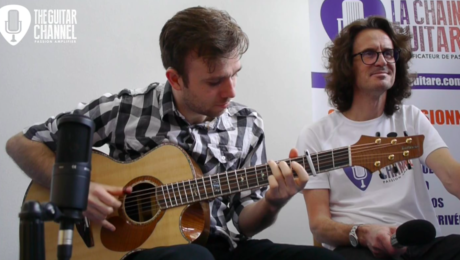 The Issoudun Guitar Festival 2018 was the occasion for me a beautiful musical discovery in the person of fingerstyle guitarist Gareth Pearson who was the opening act for the duo Jean-Félix Lalanne and Eric Gombart during the acoustic evening. A big thank you to Jean-Baptiste Hardy (also interviewed at this Issoudun festival) who introduced me
The Festival Guitare Issoudun 2018 will be the 30th edition of this unique guitar event in France with a rich program of concerts, a guitar show, several masterclasses and an incomparable atmosphere. On the concert side, the immense Robben Ford is the international headliner followed closely by Christian Laborde, Joseph Lipomi, Jean-Felix Lalanne & Eric
Fall is traditionally a very busy period on the side of guitar events because there are a lot of shows and festivals that are held at that time. Below are the events on which The Guitar Channel will be present whether to cover the event, to exhibit or ... as an organizer! September 7th to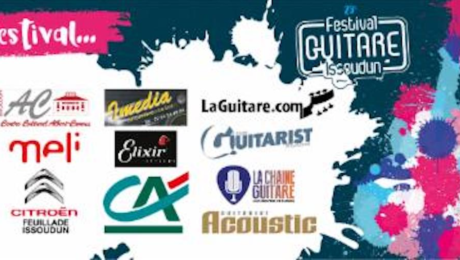 Very pleased to announce that The Guitar Channel is now an official partner of this major guitar event of the year in France which is the Festival Guitare Issoudun (www.issoudun-guitare.com).
Each time The Guitar Channel is covering an event like a fair or a festival, we record a live report which is then available later for replay. This allows all the guitar aficionados to live the event from the inside. Here are all those videos in one playlist. Here's the list of the events covered:
NAMM
Musikmesse
Holy Grail Guitar Show
Festival Guitare Issoudun
Guitares au Beffroi
Gear Evenings organized by The Guitar Channel
Factory Tour
Video reports playlist
During those events, interviews are recorded and available
through the Backstage Pass subscription.
Here's an interview with luthier Andrew Lowry during the Festival Guitare Issoudun in France.
Thursday, 17 November 2016
John Scofield was the headliner of the 2016 Festival Guitare Issoudun in France. The Guitar Channel did an intense lobbying in order to be able to organize with John a video interview using the Guitar in Hand format which works so well. In fact, with this formula the musician has his guitar plugged in and ready all the time so he can illustrate an answer with a couple of notes here and there. John sure did that and more during the close to 30min interview.
Saturday, 16 November 2013
The legendary Al Di Meola was headlining the 2013 Issoudun Guitar Festival, knowing that I made every effort to get an interview with him. This was done thanks to Kevin Seddiki, guitarist with whom Al plays in duo, who was kind enough to play the role of intermediary and put me in touch with the management of the master. A huge thank to Kevin for his intervention.
The interview with Al Di Meola
I had 10min to do my interview, including setup time. I do not deny that I was a little nervous to meet such a superstar.
Saturday, 16 November 2013
Done just before the soundcheck of the concert that evening as headlining of the 2013 Issoudun Guitar Festival, here is the interview with one and only Al Di Meola.
The video above is an extract of the interview
Get the Backstage Pass to view the full version
With the permission of the management I was able to attend the soundcheck of the duo and shoot some images.  It's a rare moment where we you get the impression that the artists play only for you.