Wednesday, 24 August 2016
Gilad Hekselman is a Jazz guitar player discovered by The Guitar Channel thanks to Bruno Pelletier-Bacquaert who is our official Jazz advisor.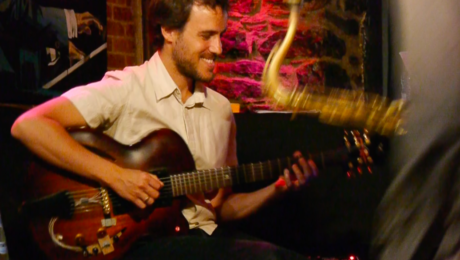 This summer while I was covering the Montreal Jazz Festival I had the pleasure to meet again Gilad Hekselman for an in-depth interview about his latest album Homes which was just released this October.
Questions asked during the interview
How does it feel to play the Montréal Jazz festival?
Is that the occasion to play with other musicians and to jam?
Last time we met it was in Paris last year, what's new since?
How come jazz musicians are able to sound good on the first note of the first tune at the soundcheck?
How do you approach soundcheck
Saturday, 22 November 2014
Following the advice from Bruno Pelletier-Bacquaert I added a couple of jazzmen to my radar in order to have more Jazz guitar players featured on the show. Gilad Hekselman was in Paris in July for one night at the Duc des Lombards, I took this opportunity to interview him before the concert.
Podcast: Play in new window | Download | Embed
Subscribe: Google Podcasts | Spotify | RSS