This Fastback Alquier model Codetalker built in the Maurice Dupont luthier workshop is a design by luthier Jean-Yves Alquier. It's still possible to get a custom Fastback entirely made by Jean-Yves but you now have the option to get a more affordable version with the same design and built by Maurice Dupont team in France.
Spoiler: this instrument is a great luthier guitar.
Fastback Alquier "Codetalker" by Maurice Dupont
Fastback Codetalker photos
Here are a couple of photos of this very elegant instrument.
Rig used for the review
Here's the pedalboard used for the review.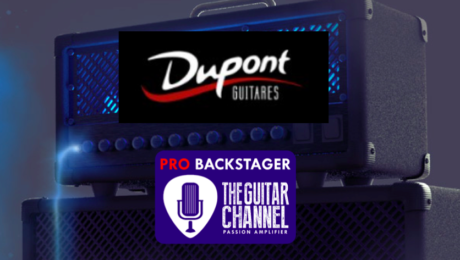 Name : Maurice Dupont
Type : Luthier
Web : www.acoustic-guitars.com
Maurice Dupont is one of the great gentleman of the French lutherie. He manufactures guitars surrounded by a team in his workshop near Cognac in France. Well known for his type of gypsy guitar, his production covers a much wider spectrum from classical guitar to solid-body through its famous Manouche guitar or jazz oriented instruments.
You can find his guitars in his Paris store Dupont des Arts (3 Avenue Daumesnil, 75012 Paris France) right next to Bastille and Gare de Lyon.
Saturday, 10 October 2015
It's always a pleasure to do an interview with Eric Bibb as he is very generous and thoughtful in his answers. Eric has just released and album with harp player Jean-Jacques Milteau mostly around Lead Belly songs and a couple pf compositions by the duo.
Guitar wise, in this interview Eric is playing an all mahogany Larson Bros guitar (www.larsonbros.com) built by Maurice Dupont (www.acoustic-guitars.com) in France.
Album Review
The 16 song album is excellent to revisit with a new twist all the Lead Belly repertoire.