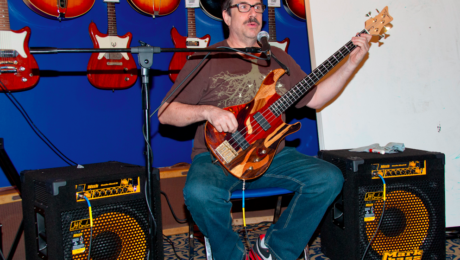 During the 2015 Musikmesse, I had the great pleasure to meet one of the bass master Jeff Berlin for an in depth interview.
Jeff plays Mark Bass amps and Cort bass
Subjects discussed in the interview
His first guitar
The main turning point in his career
His approach to teaching
The unconventional views he has about online teaching services
His piece of advice to progress
Jeff website: www.jeffberlinbass.com
Mark Bass website: www.markbass.it
Enjoy,
Pierre.
You enjoyed this extract?
Get the Backstage Pass to watch the full video and more
Here's a teaser of the interviews recorded during the 2015 Musikmesse with this list of people:
Heike Matthiesen
Frank Gambale
Jeff Berlin
Greg Howe
Gabor Goldschmidt from Fibenare Guitars
Tom Quayle
2015 Musikmesse preview video
Until the next interview, keep on playing the guitar!
Pierre.
You enjoyed these extracts ?
Get the Backstage Pass to watch all the exclusive videos and more!
Click here for more info on the Backstage Pass