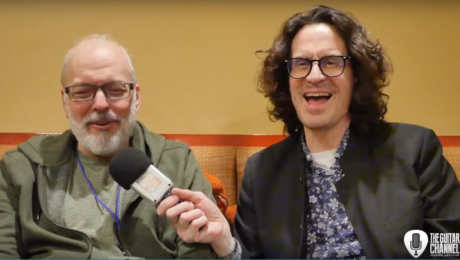 Mike Keneally is an extraordinary musician who plays guitar as well as keyboards and piano. He has accompanied and collaborated with musicians such as Steve Vai, Joe Satriani, Devin Townsend and Frank Zappa. In this interview conducted during the NAMM 2020 X-Jamm concert, he shares his memories with Frank Zappa to whom the evening was
Saturday, 06 February 2021
The musician Pierrejean Gaucher (pierrejeangaucher.com) plays in this session some selected pieces from his album Zappe Satie where he mixes the music of Frank Zappa and Erik Satie. Pierrejean Gaucher plays Zappe Satie Gear used Guitar: Tausch Guitars model 665 Raw Deluxe (tausch-guitars.de) Amp: Kelt V-Twin Sound: Universal Audio Ox Box Pedals: Jan Ray Vemuram,
Sunday, 06 September 2020
During the annual X-Jamm 2020 concert organized during Winter NAMM, I had the opportunity to meet several musicians who have worked with Frank Zappa. Here is Zappa's singer and guitarist, Ray White. Ray White interview Until the next interview, keep on playing the guitar! Pierre Journel.