On February 13th, 2020 The Guitar Channel joined the band Soho Riot (facebook.com/SOHORIOTRock/) at Studio Luna Rossa in Paris, France where they were rehearsing, doing an interviewing yours truly and recording sessions. The songs below are compositions by the band which is releasing their EP in March. Soho Rio is composed of Edouard Dornier on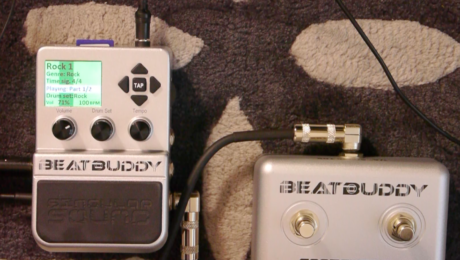 Beatbuddy pedal demo by François C. Delacoudre
Here are a couple of video demos recorded to demonstrate the variety of contexts where the Beatbuddy pedal can be used.
BeatBuddy wbsite: www.mybeatbuddy.com
Beatbuddy demos by François C. Delacoudre : from contrabass to slap and 2-string bass!
On a 2-string bass :
Slap:
With a contrabass :
En jam à deux :
Conclusion
As you can see from the video demos, it's possible to use the Beatbuddy pedal in many different contexts. François C. Delacoudre who is a professional bass player in France really enjoyed playing the pedal in very different styles.