The Toulouse brand of high end boutique guitar gear Dewitte Wired has in its range a tube amp which sounds awesome: the Brut(e) Deluxe. Nicolas Dewitte, the boss of the brand, was visiting the showroom with his amp under his arm for a tour of Paris, it was an opportunity to do a quick test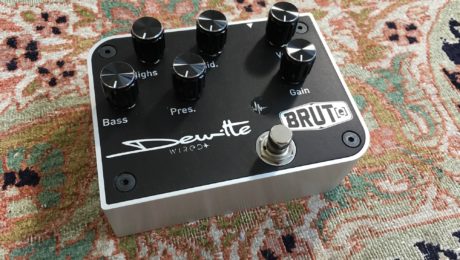 Nicolas Dewitte has been designing and producing pedals under the brand Dewitte Wired since 2004, the pedal model Brut(e) represents the synthesis of all experiments to propose a pedal with huge sounds on your pedalboard. Note that the pedal is presented as a preamp that is to say that it can of course work in
Name : Dewitte Wired
Type : boutique builder of pedals and amps
Web : www.dewitte-wired.fr
Dewitte Wired is a French boutique builder composed of two people Nicolas Dewitte and Stéphane Pointeaux. They propose a nice range of overdrive, distorsion and booster pedals. Some tube amp heads are also in the works.
A couple of Dewitte Wired pedals
Interview (in French) of Nicolas Dewitte
Interested in the Pro Backstage Pass ?
The Pro Backstage Pass is tailored to help you grow your business and increase your visibility in the guitar community.