As part of the service proposed to boutique guitar builders to exhibit and try out instruments in the private showroom of The Guitar Channel in Paris, here is the Unicorn Classic coming from Finland and built by Ruokangas Guitars (ruokangas.com) led by master builder Juha Ruokangas.
Ruokangas Unicorn Classic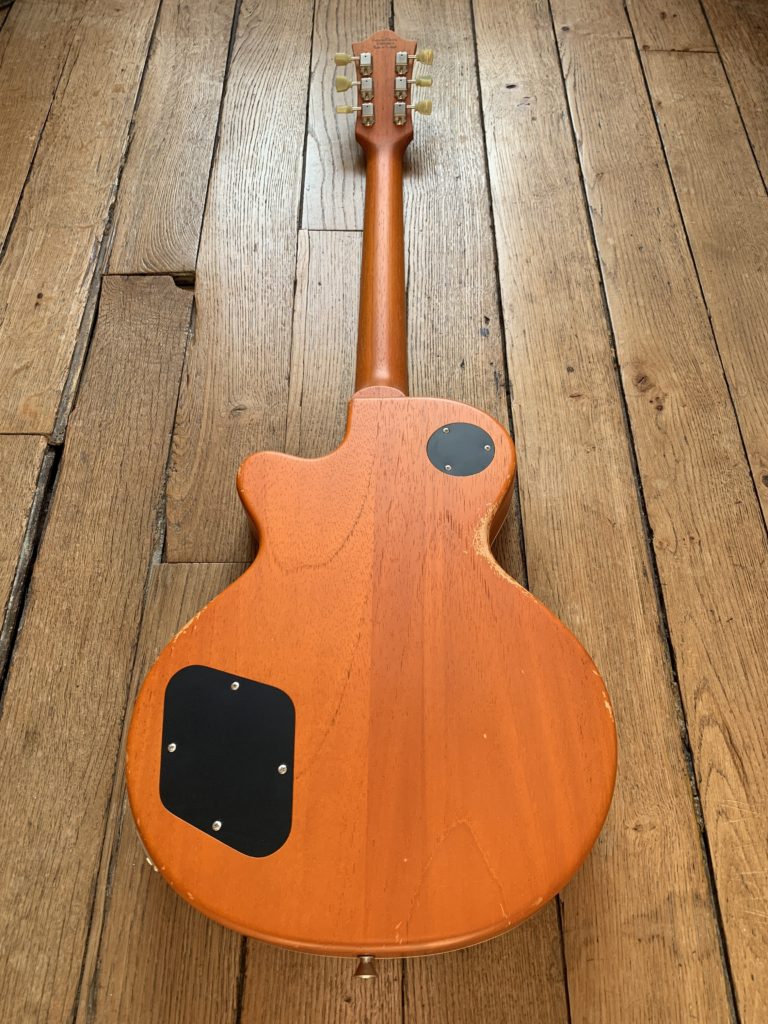 Unicorn Classic Ruokangas Specs
Amount of frets: 22
Back colour: Tea
Back finish: Paper thin satin
Body binding: Cream
Body construction: Solid
Body wood: Spanish Cedar (Cedrela Odorata)
Bridge: ABM 2054
Fret marker style: Mother-of-pearl crown inlays
Fret material: Stainless Steel
Fret size: Narrow High
Fretboard: Rosewood (Dalbergia Latifolia)
Fretboard binding: Matched with body
Fretboard finish: Oil / Wax
Fretboard radius: 12"
Hardware: Nickel plated
Headstock face: Ebony (Diospyros Ebenum)
Knob type: Amber Hat style
Neck construction: Long tenon set-neck
Neck profile: Boat '59
Neck wood: Spanish Cedar (Cedrela Odorata)
Nut: Moose Shin Bone
Pickguard: 1-ply Cream
Pickup rings: Cream
Pickup set: Ruokangas Unibuckers
Scale length: 24,75"
Strap buttons: Gotoh Straplocks
Top colour: Honeyburst
Top finish: Glossy top finish
Top wood: Exceptionally Figured Arctic Birch
Tuners: Non-locking Gotoh SD510
Wiring: Unicorn wiring 1 / two pickups
Weight: 3.67kg / 8.1lbs
Price: 8 800€
Presentation of the luthier Juha Ruokangas
Master builder Juha Ruokangas has assembled a team of a few highly skilled luthiers around him to produce a small number of very high-end instruments. Interviewed for the first time in 2014 at the Holy Grail Guitar Show, the Finnish luthier offers high-end guitar.
Archives of the interviews and luthier chronicles with Juha Ruokangas
---
Come and try this guitar in our showroom in Paris, France!
During the whole stay of this instrument in the showroom, it will be possible to come and try them out.
There are two ways to do this:
You are a premium subscriber to The Guitar Channel, you can then make an appointment and come whenever you want.
You are not (yet) subscribed, then contact the luthier to start the conversation and see with him if it is relevant to come for a test ride.
---
Get featured in our private showroom in Paris, France!
You are a luthier and wish to be featured your in our private showroom?
The service proposal is presented on this page.