Here is an article written to help the guitar builders after the Holy Grail Guitar Show (holygrailguitarshow.com) edition 2020 was cancelled because of the Coronavirus quarantine. The idea was to explain this subject as simply as possible so they can have a good online impact during the virtual edition.
We are going to focus on 3 main platforms (Facebook, Instagram, YouTube) on which you can easily do a live broadcast right from your smartphone. All that is said below is also valid if you broadcast from a computer.
Step by step guide to broadcast live
Prepare your live broadcast, know what you are going to tell and what you want to show.
Let the people following you know in advance when you are going to be live (create a Facebook event, post pic with the date and time on Instagram, etc.).
Start your live broadcast on time.
Pieces of advice to make your broadcast better
Make sure the battery of your phone is at 100% when you start your broadcast, video broadcasting uses a lot of power.
Make sure to have the best connexion possible on WiFi on your smartphone. 4G can work too if you have a strong signal.
Try to be as stable as possible while holding your smartphone. Use a small tripod if you have one. This would allow to move around freely and put the phone down once in a while.
Turn your phone horizontally when you can, especially on YouTube and Facebook.
People usually take time to come so at the beginning of your live you will probably feel a bit alone, don't sweat it, start to talk even if there is nobody online (this will look much better in replay if you do so).
Once your live broadcast is finished, you can usually download the video and repost it elsewhere. Example: if you did your broadcast on Facebook you can download the video file and post it to YouTube. If you know how to edit a video, you can even edit it, add a logo, cut weak parts, etc..
If you are happy with your live broadcast you can then include it in a post on your website afterward. It is a good way to have a better return on investment on your effort which will last longer than the length of the live broadcast itself.
Regarding the duration of the broadcast: 15 to 30min is a good start but if you have plenty of people watching with questions coming in, it can last longer. When you feel you got your message across, end gracefully the broadcast by saying thank you and remind people where they can get in touch with you.
Regarding Facebook, you have to choose if you broadcast in your personal profile or on your page. You can do both but not at the same time. My advice would be to broadcast on your page but maybe you are super active on your personal profil so you have to decide. And nothing prevents you from doing both at different times.
On Instagram, right from your your phone it is possible to bring a guest in. That can be a great format if you have a musician for example ready to chime in, even for just a part of your broadcast.
Formats possible for live broadcast for guitar builders
Questions & Answer: you can prepare a set of standard questions you are usually asked and then pick from the questions you will get from your online audience. It is a great format especially if you already have some kind of online following. Choose the platforms where you have the most followers.
Workshop Visit: guitar aficionados LOVE that format as it allows to see where the magic happens. Basically, you just walk around your workshop and explain which steps is happening each time. You can switch from the front and back camera on your smartphone to show your face when you are explaining something and switch to the other camera when you want to show something. Be careful to be as steady as possible. It would be ideal to have some kind of stand to use for your smartphone so the image is as stable as possible.
Show finished instruments: prepare your instruments so you can have them on a table with plenty of light and walk around them while explaining your work. Switch between the front and back camera so people can see your face when you explain something in detail.
Guitar demos: this can be done also from your smartphone if you have a stand to show the video AND a proper way to have a great sound. I strongly advise NOT to do this is you only have the internal microphone of your smartphone. If you have a small audio interface like the IK Multimedia Pro Duo (€240 online) you can use the stereo output from a console where you can have a mic for your voice as well as a mic for the guitar or an output from a high quality system like a Kemper, AxeFx, Ox Box or similar gear.
Example of a live broadcast done from a smartphone
The video below was recorded right from my smartphone during the 2018 edition of the Holy Grail Guitar Show.
Note that for this Facebook live I used a IK Multimedia iRig Mic Lav (40€) connected to my phone which gives a much better sound quality than the internal iPhone microphone.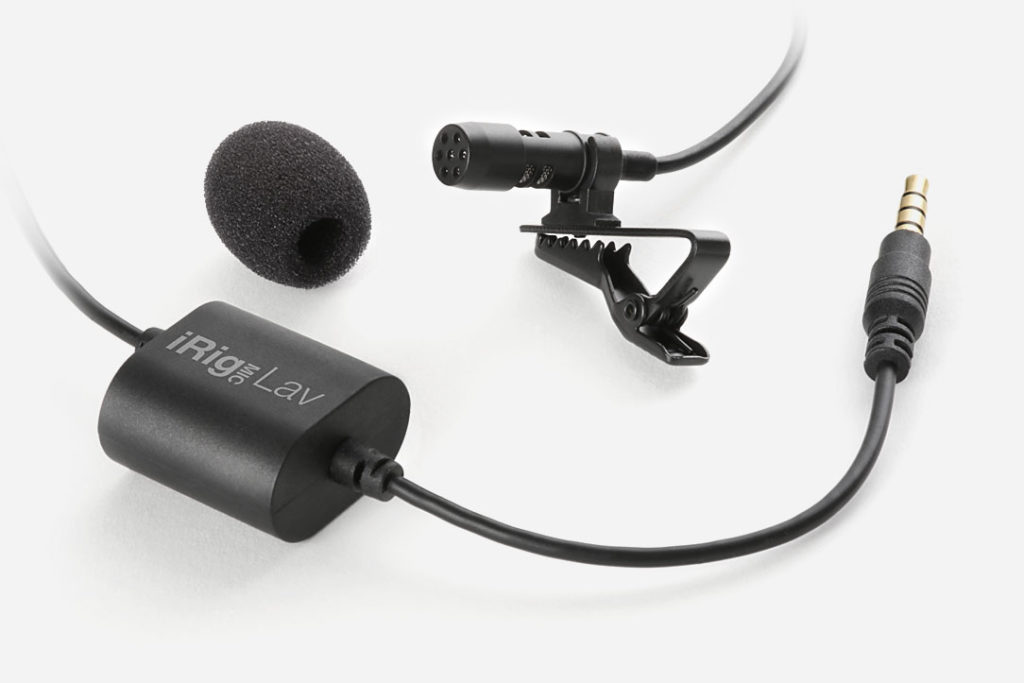 Conclusion on broadcasting live from a smartphone
As you can see in this article, it is easy to do a good quality live broadcast from your smartphone without any costly gear.
All that is explained above in the article is of course applicable for a musician or basically anyone wanting to communicate live with a smartphone.
Until the next blog post or interview, keep on playing the guitar!
Pierre Journel.
Into guitars?
Subscribe!