The Puteaux Guitar Festival includes a luthier guitar show with 49 exhibitors as well as 28 demo concerts of instruments, amps and pedals by professional musicians on Saturday October 13rd and Sunday October 14th from 15:00 to 18:00. A wonderful opportunity to see and especially to hear all this beautiful gear played by talented pro musicians.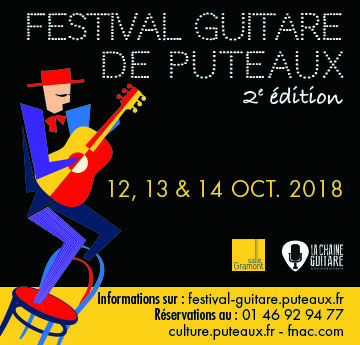 The principle of the demonstration concerts is simple: a musician, a guitar (and an amp/pedal if the guitar is electric). No backing track, no vocals, just the musician and his tools to make music for 20min per session.
The three official musicians for this edition are:
Acoustic demo concert - Mozart room
Electric demo concert - Lully room
2017 videos of the demo concerts
Guitar show schedule
Friday 12/10 17:00 to 21:00
Saturday 13/10 11:00 to 18:00
Sunday 14/10 11:00 to 17:00
FREE ENTRY
3rd floor
5, rue Francis de Pressensé 92800 Puteaux, France

Into guitars?
Subscribe!