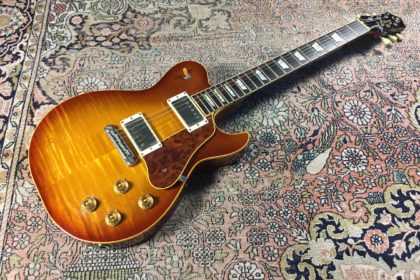 With the Bluesmaster Custom 59 built by luthier Johan Gustavsson (www.jgguitars.com) we are clearly in the category of exceptional guitars! This guitar made in Sweden in 2005 is the top of the crop. The marriage of Les Paul and Telecaster shapes will probably not please everyone but we at The Guitar Channel are loving it.
Test setup
Sound path: guitar > Savage Anasounds pedal > Fulltender JGHG pedal > Amp
Amp: clean channel of combo Marshall 6101 30th Anniversary 1962-1992
Sound: Sennheiser e906 mic in front of the HP
Post-production : Reverb 20% Average Room added in Final Cut Pro
Bluesmaster Custom 59 - Gustavsson
Until the next gear review or interview, keep on playing the guitar!
Full video reserved for subscribers
Subscribe!