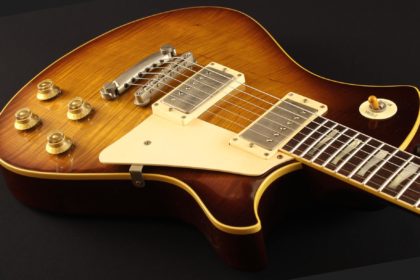 "The Burst" is a guitar made by the luthier Mikaël Springer as a tribute to the mythical Les Paul Standard 1959 by Gibson. Starting from his Seraph model with a body in cedro, maple table, he took over the sculpture of the table to give it a more Vintage side, used a nitro finish as the model and applied all his know-how to build an instrument out of common.
"The Burst" by luthier Mikaël Springer - Video Review
What I enjoyed the most on this guitar
The sound
The quality of the lutherie
Häussel pickups
The splendid look
Very reasonable weight
What I enjoyed the least on this guitar
High price (5 200€) even if totally justified
Photo album
Conclusion
If you are a fan of old Les Paul, but the price of an original makes you shudder and you want an instrument with a luthier guitar personality, then the Burst model of Mikaël is an option that could be relevant for you. The quality of construction and sound are impeccable. I even go so far as to say (but I confess that I am totally a fan of Mikaël's work) that this Burst is even better than Les Paul because it has a more ergonomic handling than a Les Paul.
Since the recording of this test I had the opportunity to try other Burst guitars, one of which one in Gold top slightly reliced finish which was pretty incredible. See the article on the Springer Week-end organized The Guitar Channel to see more Burst.
Until the next gear review, keep on playing the guitar!
Pierre.
Full video reserved for subscribers
Subscribe!