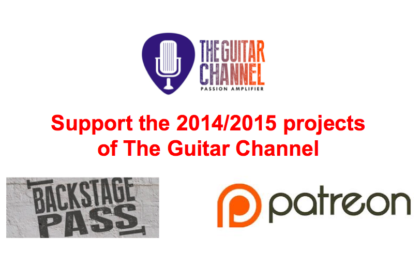 The next 12 months will be very busy on The Guitar Channel, as were the last 12. More than ever I am determined to produce the best possible content to amplify our shared passion for the guitar.
This means in particular to be present in as many major guitar events as possible. It is impossible to be everywhere despite my desire to be, here are below the projects for 2014/2015.
October 2014 - Guitare Festival Issoudun (France)
This year I will again be present at the Festival Guitare Issoudun in the middle of France for this key event of the guitar. And this time I will have a booth to meet and chat with all guitar fans.
Note:1 month Backstage Pass offered to all festivalgoers.
The festival organization invites me to provide coverage of the festival which allows me to save on accommodation and food expenses. This leaves to cover travel expenses and other expenses for the three days. Being invited, all content products will be available for free.
Interview done in 2013 at Issoudun : Al Di Meola
Budget: $ 130
---
 November 2014 - Holy Grail Guitar Show (Berlin, Germany)
This will be the first edition of the Holy Grail Guitar Show. It will take place in Berlin. It will bring together over a hundred luthiers from all over Europe and around the world. This is a unique opportunity to interview musicians and luthiers during these two days.
Budget breakdown:
$ 183: airfare by Easy Jet
$ 95: 2 nights via AirBnB
$ 95 / day: meals and other
Budget: $ 563
---
January 2015 - Winter NAMM (Los Angeles)
Here we begin to enter the ambitious part of the project planing as going to California for a week is expensive. For The Guitar Channel it will be a unique opportunity to interview artists, musicians and all the pros guitar found only on the other side of the Atlantic.
Budget breakdown:
$ 650 airfare from Paris
$ 77 / day hosting via Airbnb
$ 64 / day for miscellaneous expenses (travel, meals, etc.)
Budget: $ 1,355
---
April 2015 - Musikmesse (Frankfurt)
The Musikmesse in Frankfurt is an important event in Europe to meet with all professional guitar. I intend to be present again in 2015 in order to conduct interviews reserved for Backstage Pass owners like I did this year with big names such as Paul Reed Smith, Nik Huber, Greg Koch and others. And there will also chronicles videos available for free as those made with Georges Guitars Addicts or Shai Sebbag for the acoustic part.
List of content produced in the past during the Musikmesse.
Budget breakdown:
$ 195 return trip by train Paris/Frankfurt
$ 65 / day hosting via Airbnb
$ 65 / day for miscellaneous expenses (travel, meals, etc.)
Budget: $ 715
---
 Participate in the funding of these projects ($ 2,763)
We thus arrive at a total budget of over $ 2,700 and only to cover the cost of travel on these events. Eventually the financing tools I put in place are designed to ensure the economic viability of the project so that I can continue to devote 100% of my time to the show.
One method exists to fund these projects and ensure the future of The Guitar Channel: The Backstage Pass
The Backstage Pass
The Backstage Pass is the way to get the full experience of The Guitar Channel: it provides access to exclusive video content, to online masterclasses, to deals with partners and to the private community.
Conclusion
The Guitar Channel is 100% community funded, it is supported by those who watch / listen it. There are no ads. It's as simple as that. So if you want this independent guitar media to continue and to grow, you have the choice of the financing method that suits you best.
A huge thank you to those who already support the show and thanks in advance to those who will join them.
Pierre.
You enjoyed this article? Subscribe for more!