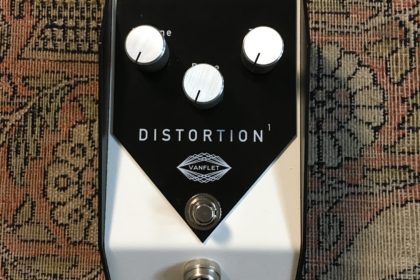 Vanflet is a new French manufacturer of boutique tube amp, they are now launching a range of pedals. Here is the Distortion1, a pedal that inaugurates the series with the Driver1.
Vanflet Distortion1 video review
Specs
Settings: Volume, Gain, Tone
Soft switch
9V
Price: 149 €
What I enjoyed the most
A huge reserve of gain
Simple and effective settings
Very quiet pedal
The quality of manufacture
What I enjoyed the least
The light below the switch
Conclusion
At 149 €, the Vanflet Distortion1 has a very aggressive price. Its reserve of gain is phenomenal as well as the range of action of the adjustment of tone which makes it possible to go from ultra-creamy to chainsaw! If you are looking for a pedal to get big sounds from your anemic amp, the Distortion1 will make you happy.
The only disadvantage that I found on this pedal is that the indicator of action is placed under the switch to activate it, so inevitably, it is hidden when activated.
With its 3 settings that each have a very wide range, it is very easy to find the sound you want. No need for a driver's license for this pedal.
Until the next gear review or interview, keep on playing the guitar!
Pierre Journel.
Full video reserved for subscribers
Subscribe!