Billy Bo Gretsch Billy Gibbons – Matt's Guitar Shop chronicle by Matthieu Lucas
Matthieu Lucas, the passionate guy behind Matt's Guitar Shop (mattsguitar.shop), presents in this new chronicle a Gretsch Billy Bo model made by luthier John Bolin for one and only Billy Gibbons from ZZ Top.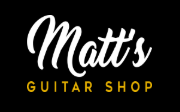 Summary of the full article
Description of the guitar
Specific details of the Billy Bo models
Billy Gibbons touch
Full demonstration
Photo album
Billy Bo Gretsch Billy Gibbons
Until the next chronicle or interview, keep on playing the guitar!
Pierre Journel.
Video reserved for subscribers