Ron Bumblefoot Thal double neck Vigier – Matt's Guitar Shop chronicle
For the second time Matthieu Lucas (mattsguitar.shop) comes to our showroom for a chronicle about a double neck guitar. The first time it was to present (in French) a Joe Bonamassa Ernie Ball instrument, this time it's a Made in France instrument with this double neck Vigier, a fretted neck and a fretless one, designed and made for Ron Bumblefoot Thal.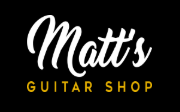 Summary of the full article
Description of the guitar
Specific details of this double neck model
Full demonstration
Photo album
Ron Bumblefoot Thal double neck Vigier
Until the next chronicle or interview, keep on playing the guitar!
Pierre Journel.
Video reserved for subscribers